Subkulture's Eternal Death Wake at Page 4
>>
They shroud themselves in shadow and paint darkness on their faces, but in fact, goths are as fun as any crowd can be. Their music even has a theatrical sort of charm that makes it more palatable than most people might reasonably expect, judging from their out-of-this-world outfits.

This was a discovery that this very un-goth writer was surprised to make on Halloween of all days, at the ominously titled Eternal Death Wake—the longest running goth gathering this side of the world.

B-side—that little hipster hub in a quiet Makati neighborhood—was transformed into a sinister wonderland as gothic Lolitas, erotic steam punks, vampires, people bloodied and bandaged, even Alex de Large converged to dance, drink, and listen to the guttural screams and haunting melodies of their favorite gothic rock bands.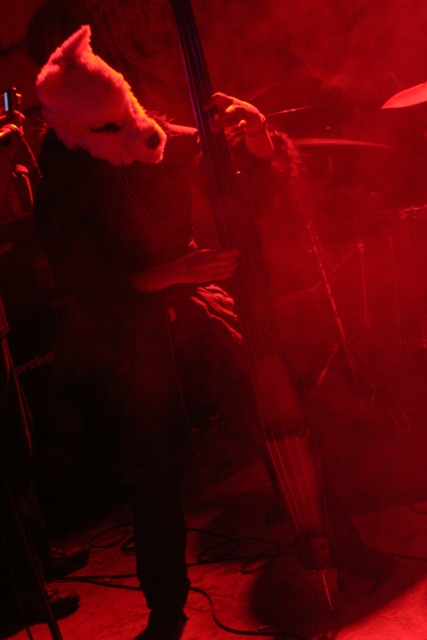 The sight of all these strange and wonderful characters, plus the distant sound of menacing laughter is enough to make any non-goth run the opposite direction.

In my case, going to the ball felt something like entering a horror house—a nauseating mix of fear and intimidation clawed at my throat and begged me to please turn back while I could, but the pleas were buried by an overwhelming curiosity and so, after heaving a breath, I went in.

There is no smile so disarming as one thrown in your direction by a man wearing black lipstick and fake blood, nothing quite as charming as a girl giggling under her black veiled hat. There is no sight as striking as a couple in matching Edwardian costumes bobbing their heads in perfect synchronicity to the music, or women clad in spikes and chains dancing freely to broken beats.

The place was rife with images of death but life still pulsed powerfully through the crowd, and when the music started to play, it exploded.

On the line-up that night were a slew of unfamiliar but arresting names, all of them with a portentous ring: Prominence of Cathedrals, Corvus Crowley, FDog13, Windfall, Scarlette, Shaffi and the Demonettes, and DJs Fleschwounds, Wapbamm, Vampire Lestat, Boadicea, and Chaos Cradle.

There was also Scarlet Tears, whose vocalists' soaring voice induced chills. The band Switch had people jumping around and flailing uncontrollably, its mix of electronica and metal satisfying those in need of some honest-to-goodness slamming.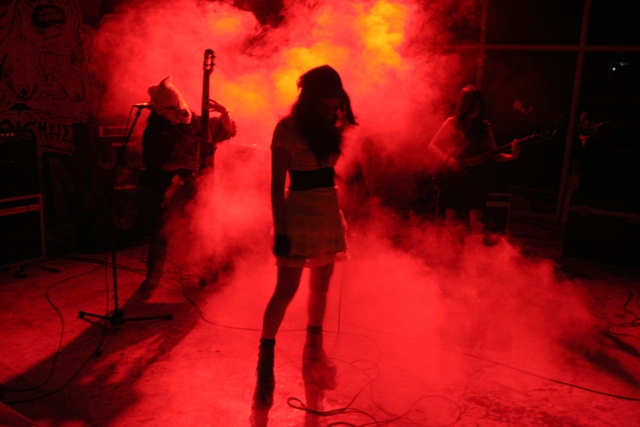 There was the all-female group, Ode to La Luna, a talented foursome whose unique sound can be described to some extent as the love child of Pink Floyd's Great Gig in the Sky and the Phantom of the Opera score.

And then there was Mr. Bones and the Boneyard Circus, whose set early on in the night was the best welcome to a goth ball anyone could have hoped for.
Their set was a slow descent into shadows, a gradual unraveling of the mind into delicious madness. As the band set up and tuned their instruments, the vocalist Mr. Bones, ravishing in fake blood, seized the microphone, alternating between sounds of maniacal laughter and rasping cries.

By the time their set began, the machines were blowing fog onto the stage so that it felt like some fantasy circus had finally arrived in town on a cloud of dark magic. The band's guest vocalist took hold of the other microphone and promptly produced a sound no one would ever have expected to come from such a sweet-faced girl.

The band's spectacle and theatrics was a wordless crash course on goth, and through only several songs, the crowd's otherworldly costumes and their deathly predispositions suddenly made sense.

The band's percussionist who goes by the stage name Jester worded it simply and perfectly later on in the night.
"It's circus," he told this writer, as a new band played their screaming song in the background.
"We play the way people played in the old days," he explained with a smile and a flourish.

As visions of darkness and death in the form of costumed people shuffled past him unapologetically, he added, "It's theater, it's spectacle."

His words rang true, not only for the band, but for the entire shadowy world contained in that dark space on that Halloween night. – YA, GMA News

Photos courtesy of Dindin San Juan